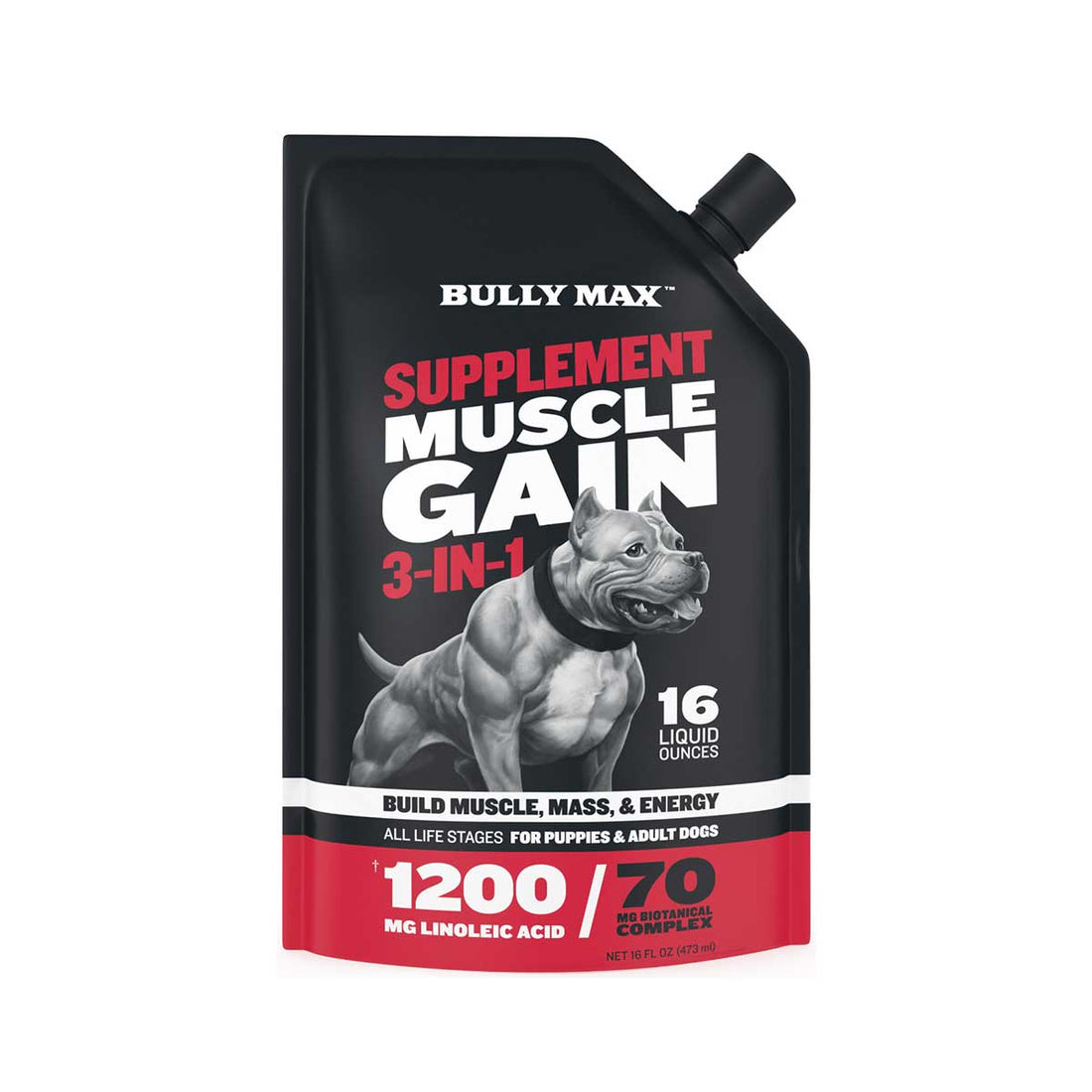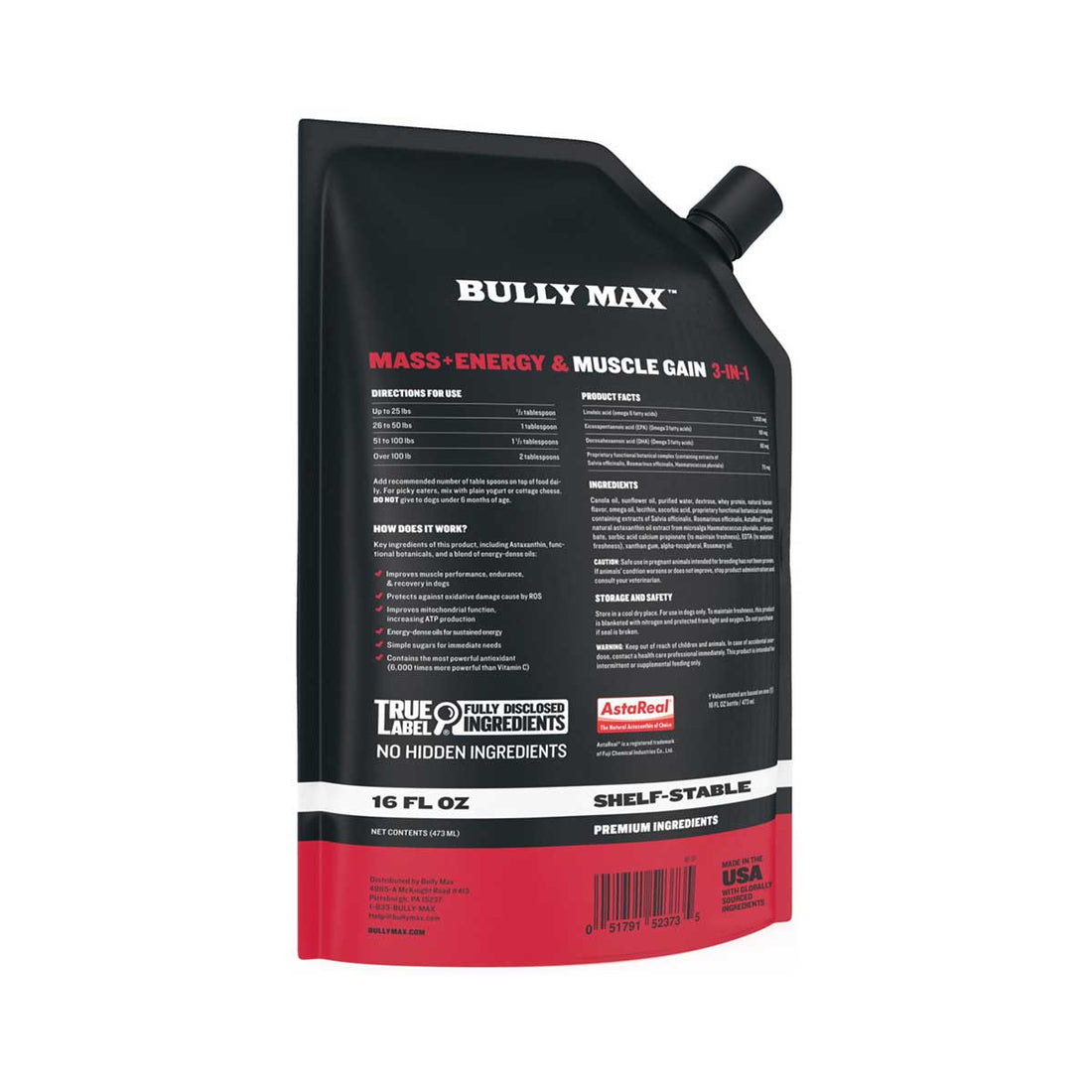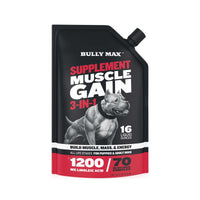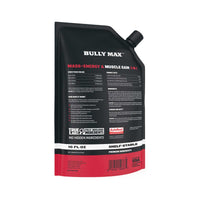 Bully Max Muscle Gain Liquid Supplement 3-in-1
Bully Max Muscle Gain Liquid Supplement helps to
Promotes more MUSCLE, more MASS, and more ENERGY!

Made with advanced synergistic nutrients & functional botanicals

Super-powerful antioxidants defend against free radical damage

The 2-stage energy formula provides immediate and sustained energy

Helps your dog recover from exercise more quickly & efficiently
Want to help your dog be as big, strong, and healthy as possible?
Then you need to try our brand-new Bully Max 3-in-1 Liquid Muscle Builder!
The most advanced muscle- and mass-producing supplement for dogs ever created.
Key Benefits:
Supports energy and recovery from exercise

Contains a super-powerful antioxidant that's 6,000 times stronger than Vitamin C

Protects against oxidative damage at the cellular level

Improves mitochondrial function and increases ATP production

Strengthens muscle performance, endurance, and recovery in dogs

Contains both simple sugars (for an immediate burst of energy) and energy-dense oils (for sustained energy over time)
How does it work?
The key ingredient to our Bully Max 3-in-1 Liquid Muscle Builder is a keto-carotenoid compound called Astaxanthin.
This ingredient, along with a synergistic combination of nutrients and functional botanicals, has 4 important benefits for your dog.
1) Promotes Fat Burning
One amazing benefit of our liquid muscle builder is that it increases your dog's fat utilization rate. In a nutshell, this means that your dog will burn more fat during exercise.
Just how much more? Studies show the increase is about 19%:
This will help your dog to have a leaner, healthier, and more muscular physique.
2) Promotes Better Exercise Recovery
When your dog exercises, its muscles use a high amount of oxygen to contract. This oxygen creates "free radicals," or reactive oxygen species, which cause exercise-induced damage to your dog's muscles. (Including the heart muscle.)
But our liquid muscle builder helps to reduce that damage through powerful antioxidants that defend your dog against the harmful effects of free radicals and ROS.
Astaxanthin, for instance, has been shown to be…
800 times stronger than Coenzyme Q10

3,000 times stronger than Resveratrol

6,000 times stronger than Vitamin C
Bully Max 3-in-1 Liquid Muscle Builder supports the reduction in damage done to your dog's muscles during exercise.
As a result, Bully Max 3-in-1 Liquid Muscle Builder has been shown to improve exercise recovery by a staggering 31%:
3) Maximizes Energy & Endurance
Bully Max 3-in-1 Liquid Muscle Builder contains energy-dense oils from healthy sources such as Omega-3 and Omega-6 fatty acids…PLUS simple carbohydrates from cane molasses.
The resulting effect is immediate energy (from the molasses) and long-lasting energy from the oils.
But that's just one of the ways in which our liquid muscle builder improves energy.
It also works by increasing your dog's ATP.
ATP—or adenosine triphosphate—is a chemical compound that provides the energy for many of our biological processes (including muscle contraction).
Simply put, more ATP means more energy that your dog can expend during exercise.
And Bully Max has been shown to increase your dog's ATP by 12-14%:
The result is a significant energy boost that allows your dog to work, play, or exercise harder and longer!
4) Promotes Greater Muscle Mass & Size
By now you know that Bully Max helps your dog to…
Burn more fat

Recover from exercise

Have more energy
As a result of those 3 things, your dog will grow bigger and stronger.
The additional energy from 12-14% more ATP will enable your dog to train harder during exercise…
Then, the improved muscle recovery will help your dog to minimize muscle damage afterward.
These are the reasons why our liquid muscle builder has been shown to increase growth in your dog by an impressive 10.30%!
Easy-to-Use Oral Gel
Best of all, our liquid muscle builder is quick and easy to feed. Simply use a tablespoon to add the gel over top of your dog's food—and that's it! It comes with a delicious bacon flavor that dogs LOVE.