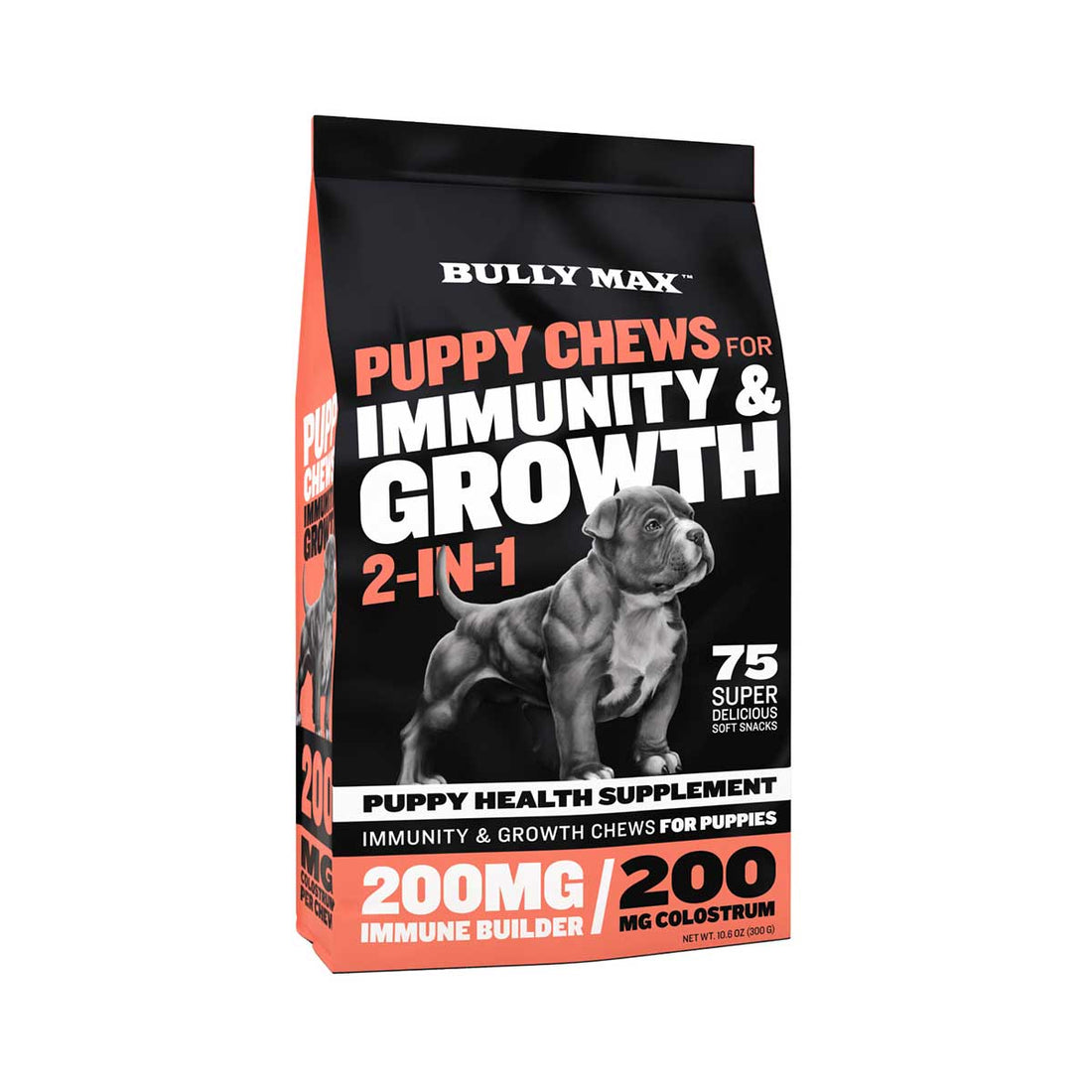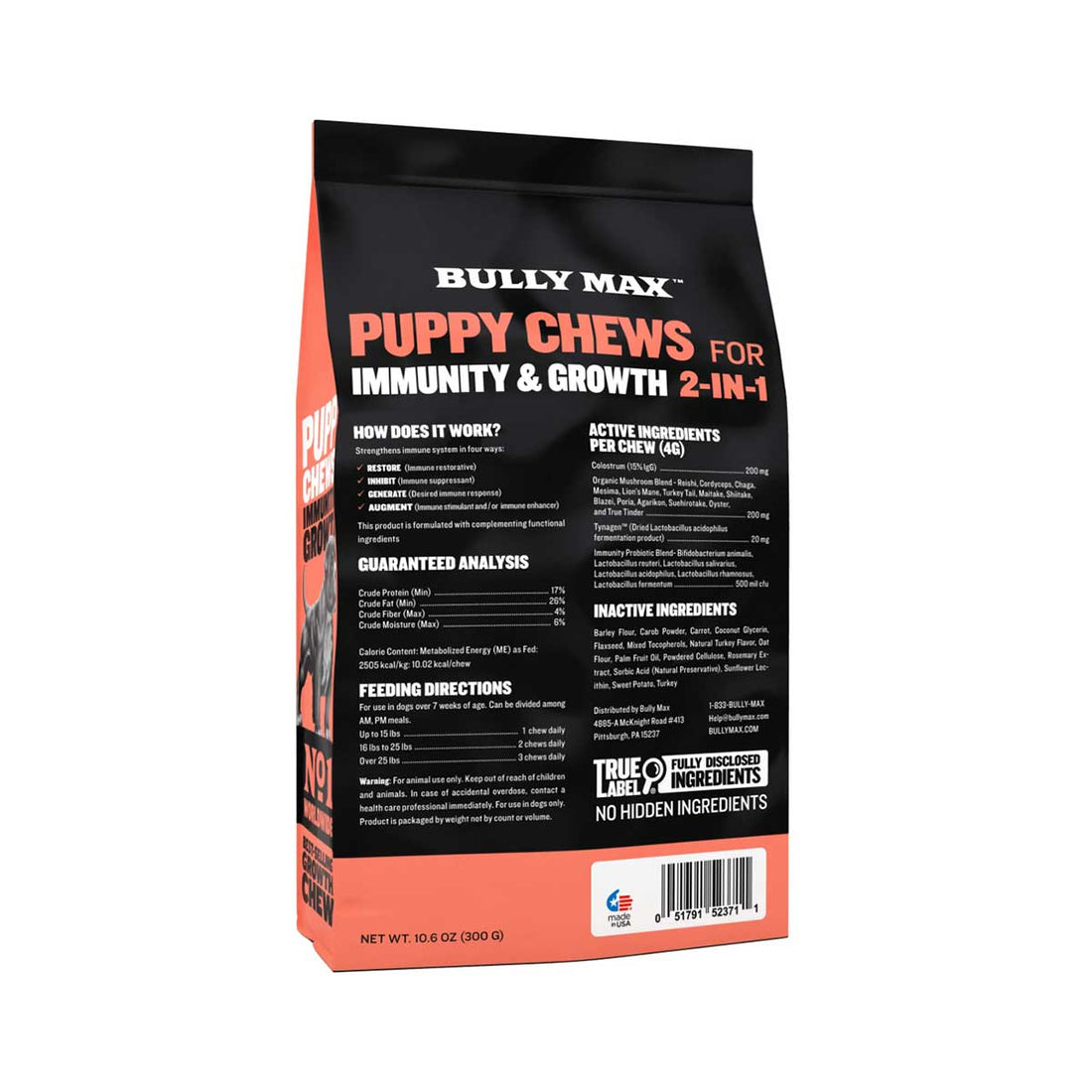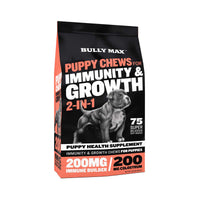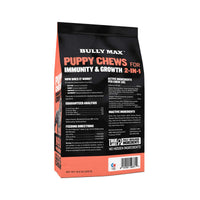 Bully Max Puppy Chews for Immunity & Growth 2-in-1
Veterinarian recommended Puppy Chews help to support your puppy's health & body's natural growth process
Did you know puppies require more than 22% more protein than adult dogs, and 60% more fat to grow up strong and healthy?
Source: Tufts Cummings Veterinary School
It's true!
Your puppy's body is growing rapidly, and they need extra nutrition to fuel that rapid growth (not to mention its seemingly boundless energy).
These first few 1-2 years of your puppy's life just may be the most critical time in their life to eat right. The food you feed your puppy could make a lifelong difference in their health!
How does it work?
Strengthens immune system in four ways:
RESTORE (Immune restorative)

INHIBIT (Immune suppressant)

GENERATE (Desired immune response)

AUGMENT (Immune stimulant and/or immune enhancer)
This product is formulated with complementing functional ingredients.
If you want to make sure your dog gets all the nutrition they need to grow up right, supplement their diet with Bully Max Puppy Chews for Immunity & Growth.
Each serving contains a healthy dose of Colostrum, the high-protein component in mother's milk that helps stimulate the growth of your puppy's muscles and immune system. A strong immune system is crucial to keeping your puppy protected from sickness and disease.
Added probiotics help to optimize your puppy's gut health, promoting beneficial bacteria and improving your puppy's ability to absorb nutrients from their food.
Best of all, they come in a delicious turkey flavor that's sure to get your puppy's tail wagging. Each bag comes in a convenient resealable pouch to maintain freshness.
Take them on walks for a snack, use them as rewards for good behavior, or just give them out as a treat every now and then. You don't have to feel guilty overfeeding your dog these nutrient-packed puppy chews.
Why Your Dog Food Isn't Enough
There are many good brands of dog food out there, but very few—if any—deliver 100% of the vitamins, minerals, amino acids, and fatty acids your dog needs to grow healthy and strong.
This is important because when you feed your dog the same thing day after day, even a small nutrient deficiency will compound over time and compromise your dog's health. Our Bully Max Puppy Chews for Immunity and Growth 2-in-1 Supplement also work as healthy dog treats and help to supplement the lack of nutrients in dog diets.




Dog Treats Have No Effect on Mood, No Side Effects
Like all our products, Bully Max Puppy Chews for Immunity and Growth 2-in-1 is made from premium ingredients (no steroids, creatine, or other harmful ingredients). These high-protein dog treats won't change your dog's mood or behavior, and your dog won't suffer any side effects.
Made in the USA with globally sourced ingredients
For all breeds of dogs over 7 weeks of age

ALL-LIFE STAGES (for puppies and adults)

Natural with added vitamins, minerals, and trace nutrients Ingredients