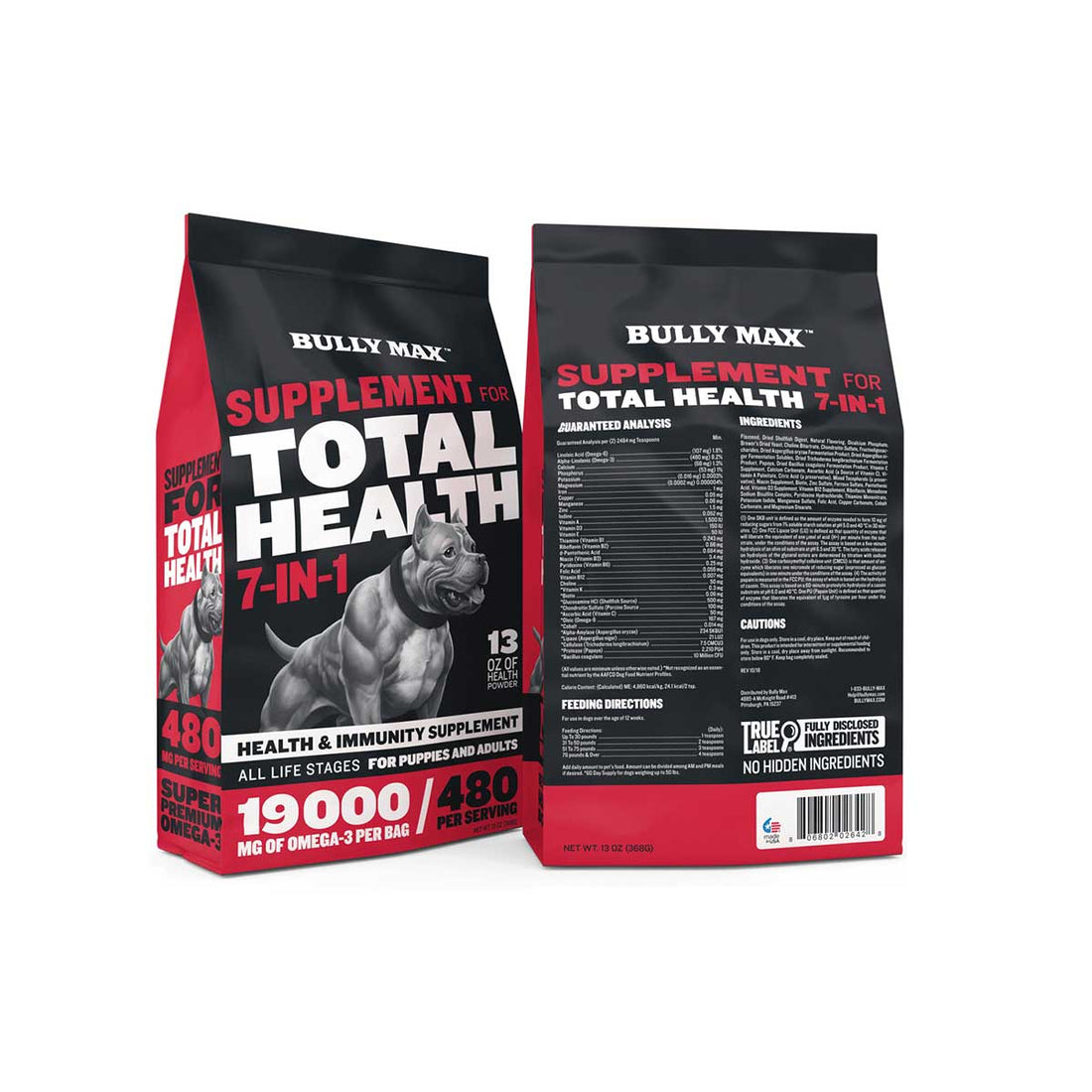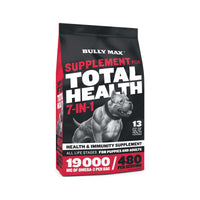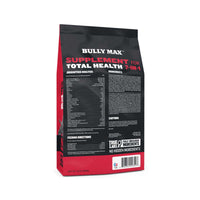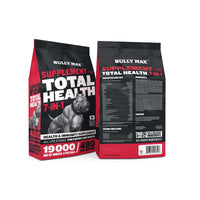 Bully Max Total Health Powder Supplement 7-in-1
An advanced all-encompassing Bully Max formula, containing the ingredients your dog's diet is missing.
Superfood for dogs.
7-in-1 Supplement Powder Formula
Bully Max Total Health delivers 7 powerful health benefits. These benefits include Skin & Coat Support, Digestive Enzymes, Hip & Joint Support, Vision Support, & Cardiovascular Support, in an easy-to-feed flavored powder.
Supports Healthy Skin & Coat
Keeps your dog's coat looking—and feeling—great. Bully Max Total Health Powder contains essential Omega-3 and Omega-6 fatty acids, and healthy fats that help relieve dry skin and keep your dog's skin & coat looking smooth and shiny.
Provides Hip & Joint Support
Just like our Hip & Joint Health Support, Bully Max Total Health provides important nutrients like Chondroitin to help keep your dog's joints well-protected and lubricated.
By keeping your dog's joints in great shape, you'll help prevent and alleviate aches, pains, and discomfort, while making sure your dog maintains the ability to move & play to stay happy and healthy.
Delivers Important Digestive Enzymes
Give your dog one of the most important, little-known, and hard-to-find dog supplement powders available. Digestive enzymes help your dog to break down food & nutrients, making sure that they can absorb and use more of the beneficial ingredients in Bully Max Total Health.
Basically, it means you get more bang for your buck.
Supplement Raises Health & Immunity
Bully Max Total Health contains vitamins & minerals that are vital to a healthy immune system—nutrients like Vitamin C, Vitamin E, and Choline.
By keeping your dog's immune system in tip-top shape, you can help make sure your dog is protected from viruses, sickness, and infections.
No Grain, Soy, or Wheat.
Like all our products, Bully Max is made using natural ingredients with added vitamins, minerals, and trace nutrients (no corn, filler, wheat, or other unhealthy
ingredients). It only has a positive effect on your dog's health, and your dog won't suffer any side effects.