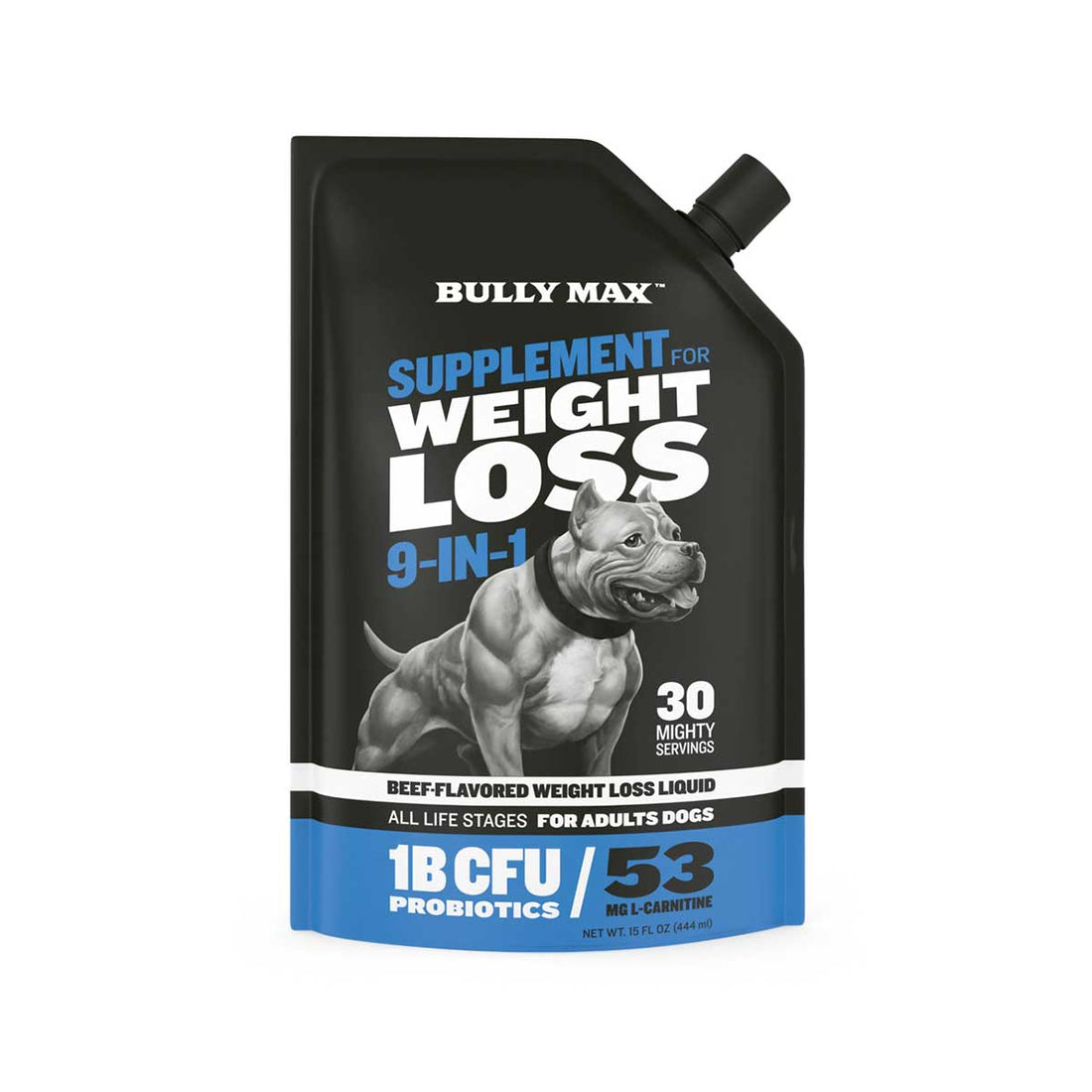 Bully Max Weight Loss Liquid Supplement 9-in-1
For dogs who are overweight, this impressive weight-loss liquid exerts 9 powerful benefits:
Weight Loss Support
L-Carnitine and Garcinia Cambogia help encourage your dog to eat less, while more of the calories they do eat are converted into energy—rather than stored as fat. In addition, the addition of Chromium Picolinate helps improve your dog's insulin response, reducing their blood sugar. The result is faster, steadier weight loss that lasts!
 2. Weight Management Support
Once your dog has reached a healthy weight, the continued use of 9-in-1 Supplement for Weight Loss helps them to stay at the right weight for life.
 3. Digestive Support
With at least 1 billion CFUs of gut-healthy bacteria per serving, this weight loss liquid helps your dog achieve and maintain a healthy digestive system. This will help your dog to digest and absorb the nutrients from their food.
 4. Exercise Endurance Support
The ingredients in this formula are shown to increase endurance and workout volume, allowing your dog to remain active longer—and thereby to burn more calories.
 5. Muscle Oxygenation Support
L-Carnitine helps to increase oxygen uptake, increasing your dog's energy and vitality. The result will be a more energetic and joyous dog.
 6. Aids in Recovery from Exercise
By helping your dog's body to recover after vigorous exercise, this formula will help make sure your dog doesn't overexert themselves during exercise—and will allow them to exercise more often.
 7. Supports Increased Stamina
The increased oxygenation and energy production from this formula improves your dog's stamina, allowing them to go on long walks and runs.
 8. Aids Muscle Soreness
Helps reduce lactic acid buildup in the muscles, decreasing soreness even after strenuous exercise sessions.
 9. Aids in Cardiac Function
By increasing blood flow, this 9-in-1 Weight Loss Liquid supports a stronger heart and cardiac system to help keep your dog healthy.
Of course, this Bully Max product is all-natural with added vitamins, minerals, and trace nutrients and contains…
NO artificial colors

NO artificial flavors

NO byproducts

NO corn, wheat, or soy