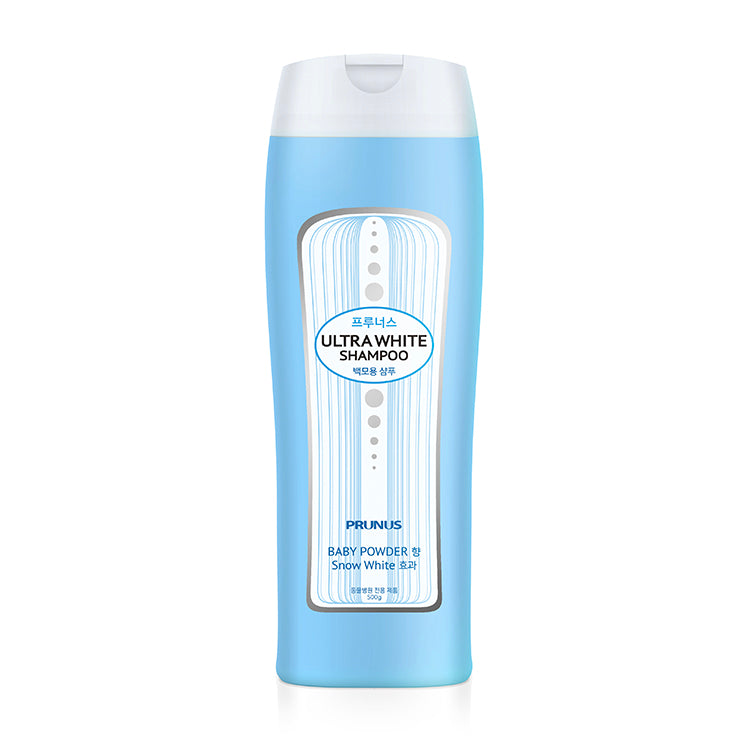 Prunus Ultra White Shampoo
Powder scented and great for all white, light or bright coloured coats. Unlike the usual Whitening shampoos, Prunus Ultra White is non drying and has low allergic reaction. It will whiten stained coats leaving it bright and beautiful.

Prunus Ultra White Shampoo
Product Features
-Protects and cleanses hair of white-coated dogs
-Hypoallergenic shampoo suitable for light haired/White Snow Shin Technology -Cleans stained white coats like snowflakes using Perfect Ideal Cleansing System -Enriches dog's skin and coat with silk protein and natural extract
-Long-lasting delicate and mild baby powder fragrance

Detailed Ingredients
Purified water, Ammonium Lauryl Sulfate, Sodium Laureth Sulfate, Cocamidopropyl Betaine, Glycerin, Dimenthicone, Laureth-3, Laureth-20, Sodium Chloride, Polysorbate 20, Butylene Glycol, Dipropylene Glycol, Chlorhexidine Digluconate,Glycol Distearate, Cetyl Alcohol, Carbomer, Polyquaternium-10, L-menthol, Soil Amino Acid, Sodiu, Benzoate, Green Tea Extract, Aloe Vera Extract, Snail Secretion Filtrate, Food BLue No.1, Fragrances, Citric Acid, Phenoxyethanol, Ethylhexylglycerin
Formulated and made in Korea.